My love for this car goes back a long way. The year was 1970 and I was 5. Dad had been following the news that Yoshihiko Matsuo and his team at Nissan, Japan were planning on a affordable sports car for the American market; the 240z. In October 1969 he joined the other 16,214 people who bought Z's that year. His was blue with black on black interior. I remember the "Nissan 2400 OHC" valve cover. At my age, there was nothing cooler than cars and as far as I was concerned I had one of the
coolest in my garage.
---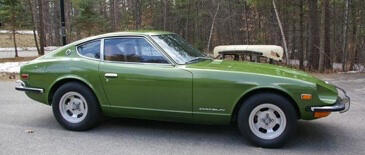 Dad had this Z until just after he taught me to drive manual in it. He sold it to make room for a truck and family boat. After a few years of that nonsense, he bought the used green 1972 with butterscotch interior and black louvers. After 140,000 or so miles and a blown head gasket, this became my first car. The deal was; I come up with half of the funds for the engine rebuild. Sold! After reading how to remove an engine, armed with a Chilton's guide I
was ready. After countless hours sitting in the engine bay cleaning/polishing and a new motor later, the car gave me 5 more years service before further repairs outstretched my budget. I remember telling myself it was ok, when I get older I can get one and rebuild it cherry.
---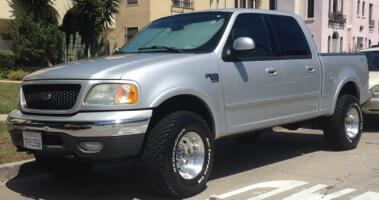 Well, countless years later, I found myself wanting to relieve my tank (my all-time favorite car by the way) of city car duty. And the Z passion was reborn. Now, find the right car.
I couldn't get one that needed too much work, I don't have THAT much time. Instead I wanted to find a car that I could enjoy along the way from project to project. After months of searching the country via the web, I found my disco orange 73 240z in Scottsdale, AZ through craigslist. The previous owner had owned the car for 20 years. He had a 'motor out' paint job 8 years ago that is nothing short of awesome and seemed to stop driving it cause the paint still looks fresh.
---

At first, I wasn't that into the color. 'A bit loud' is what I thought. But it didn't take long to grow on me. Immediately, I swapped the automatic transmission for a fresh 5 spd from an 82 zx, a Jet Hot coated MSA 6 into 1 header and a fresh set of Koni struts and she's ready to roll.

My date night car and my date...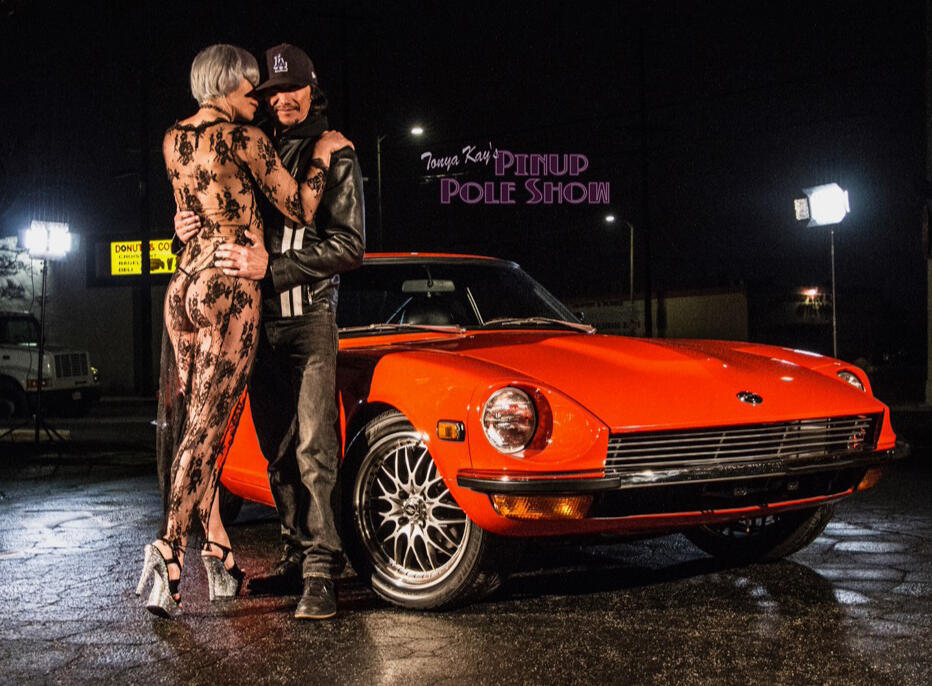 1973 Datsun 240zOriginal L24 motor with 73,000 miles E88 head, planed, polished, valves/seats ground1972 round top Hitatchi SU carburatorsjet hot coated 6 into 1 headerOne piece 2 1/2" stainless exhaust Borla mufflerzx 5spd swapHigh flow dual core aluminum radiatorCustom build alternator for Mike's Z shop 110 ampKoenig Imagine Opal 17x8 wheelsBridgestone Potenza g-Force Sport Comp2 255/45R17 tiresNew gas tankNew bumpers, holes filled & re-chromedNew door seals/window sealsNew carpetNew seat upholsteryNew CoilNew Koni struts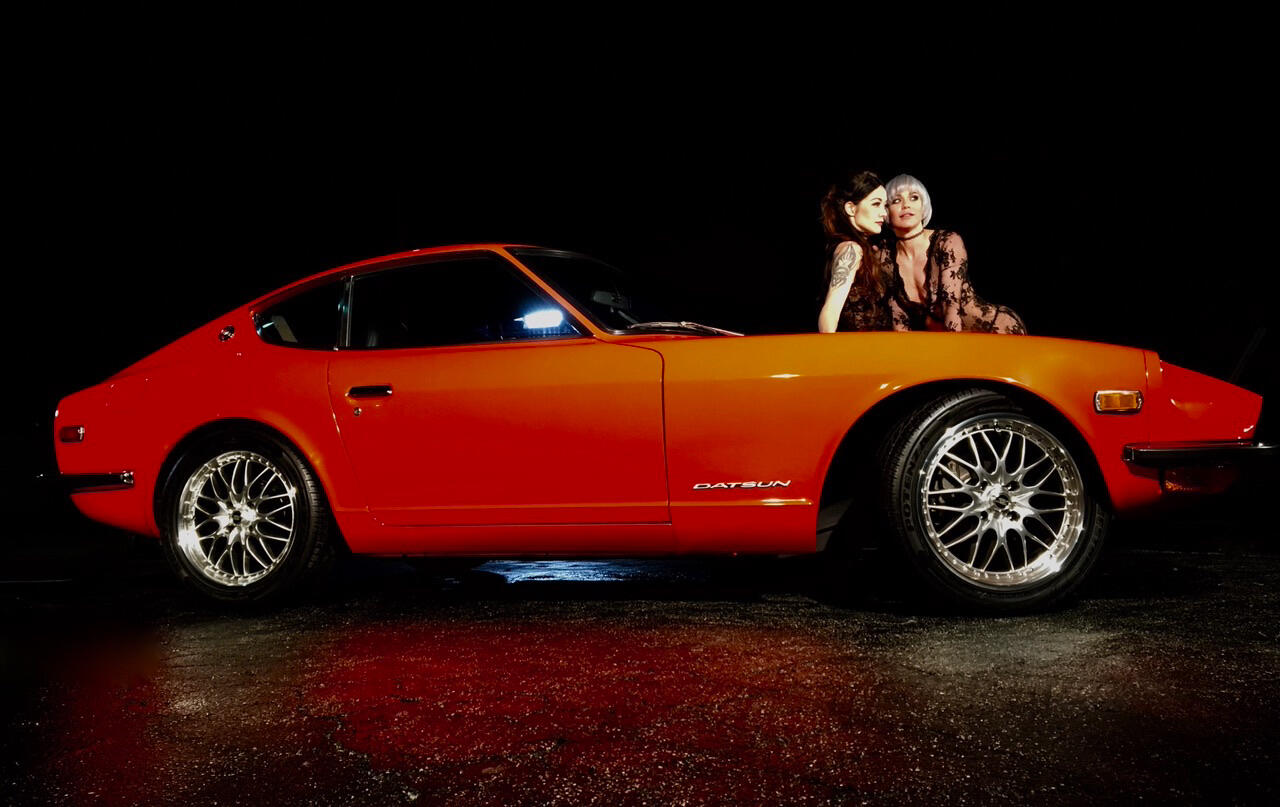 Best Datsun 240z 2nd - JCCS 2021
Best Nostalgic - JCCS 2020
Classic Preservation Award - JCCS 2019
Best Datsun 240z 2nd - JCCS 2019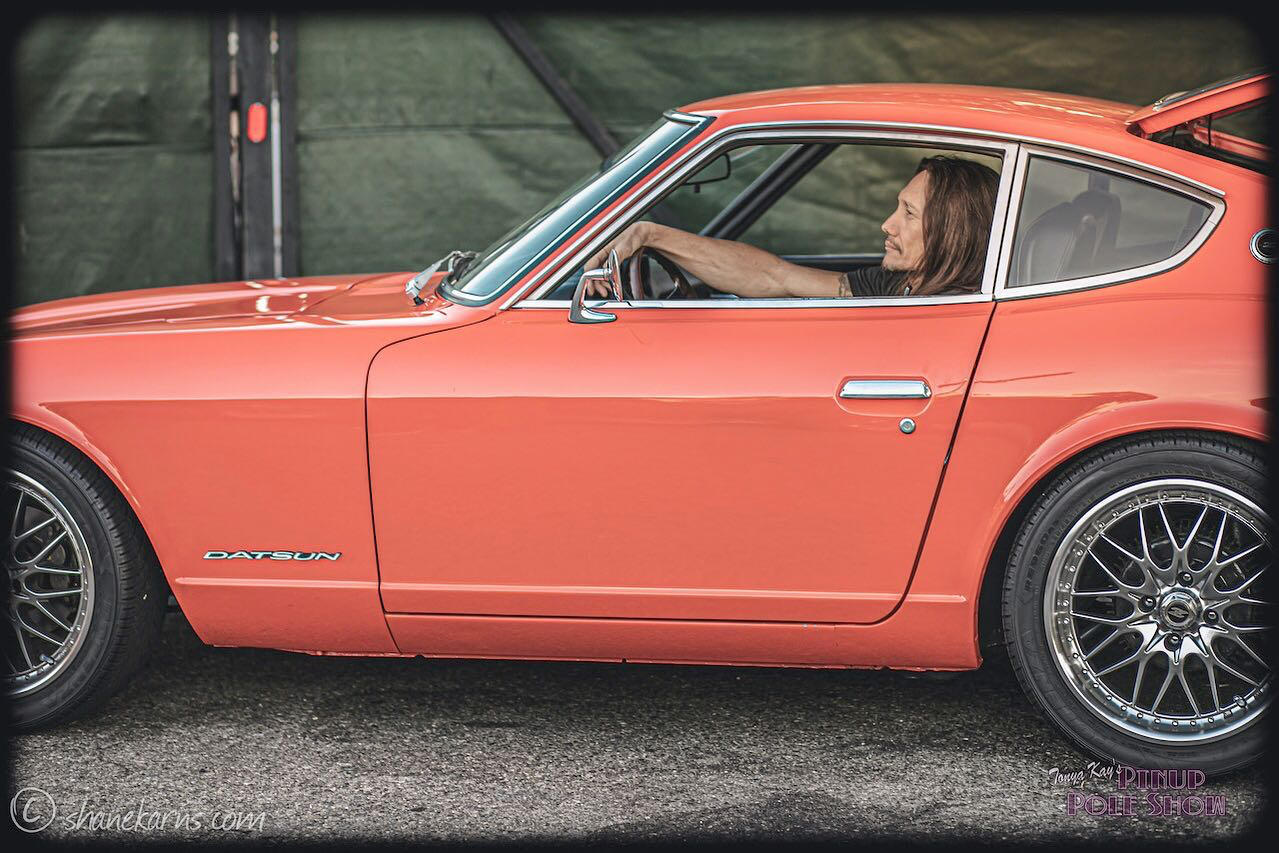 Disco Station is well on its way to being completely restored/rebuilt.

The car already has some nice upgrades like the older performance minded SU's which also have the added benefit of reliability. Or the 6 into 1 jet hot coated header free-breathing into the wider 2 1/2" exhaust. I think I will leave the L24 plant in the car, its running extremely well right now. However I would like to quicken the pace a bit. A new set of Z Therapy SU's, new linkage and a new distributor with electronic ignition are in order. That should smooth out the idle and give it some snappier response. Additionally, tighten up the drive train by swapping to a limited slip differential, new mounts for it and the transmission. Urethane bushings throughout the suspension/ steering system, larger 1" sway bar in the front & 3/4" in the back, a set of shorter/stiffer race springs and clean tank and powder coat control arms/strut towers/steering components. That should get rid of the loose feeling and quiet those road noises. To round off the performance plan, a pair of 4 piston Wilwood calipers and slotted disc's for the front for that added confidence in the canyons. If that doesn't satisfy the need for speed, then I can always build a L28 f54 block with over sized pistons. The dash has to come out. There are 2 splits right between the 3 mounds of the center gauges (typical). Once the dash is out, I will freshen up the vents and fan, update the dash lights and replace the radio with three gauges-fuel pressure, air/fuel mixture and volt meter. A new amp under the seat for mp3's, new 6x9's and a custom fiberglass sub woofer/storage box in the spare tire well. That should keep me busy for a while. Like I said, driving from project to project.

- Teddy Yonenaka